Ironically, many projects within the BRI are the precondition for a successful disengagement from China.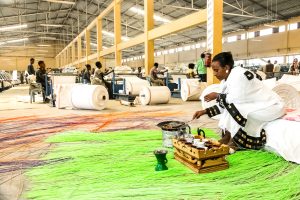 A weaving factory in Addis Ababa, Ethiopia.
Credit: Depositphotos
Since 2019, China's investments in the Belt and Road Initiative (BRI) have dropped sharply. According to boston universityAccording to the China Center for Global Development Policy, China's overseas development funding in 2019 amounted to $3.9 billion, far from the peak of investments in 2017 of $75 billion. Many have declared this fall to be the end of the BRI, as project implementation conflicts have piled up, tensions with the West continue to rise, and the internal economic situation in China continues to deteriorate. However, the death of the BRI has been greatly exaggerated. Even in the current moment of trade deglobalization and accelerating decoupling between China and the West, the BRI has a role to play in changing global supply chains.
The BRI, or the variety of infrastructure projects organized within the BRI framework, has not fallen from the political imaginations of lawmakers in China and particularly in host countries. The main reason the BRI remains a prominent feature of political debate even as investment dries up is that, ironically, many projects within the BRI are the precondition for a successful disengagement from China. Without closing the infrastructure gap in low- and middle-income countries, decoupling from the Chinese industrial engine becomes impossible. Thus, as trade tensions between China and the United States continued to escalate from 2017, developing countries in general were still eager to continue developing their trade infrastructure to attract investment away from China. For example, Vietnam, Thailand and the rest of Southeast Asia are capitalizing on BRI infrastructure to attract foreign investors fleeing geopolitical risks.
Similarly, Chinese companies, whose competitiveness is reduced by rising tariffs and rising wages at home, also benefit directly from improved infrastructure abroad provided with Chinese funding. Rather than decoupling, what is happening is the expansion of the Chinese supply chain abroad. For example, Ethiopia, an industrializing country that until recently promoted itself as the new center of garment and clothing manufacturing, relied heavily on Chinese infrastructure projects to attract foreign direct investment to its newly built industrial parks. These industrial parks, in turn, have been populated mainly by Chinese fashion and clothing firms whose prices have devalued. producing in china; these Chinese companies then export their Ethiopian-made products to Europe and the United States.
Politically, this raises questions about the efficacy of "near offshoring" or "buddy assignment" as a supply chain strategy. In the end, consumers still buy a product designed and manufactured in China, even though the label says "Made in Ethiopia." Thus, the BRI not only favors increased trade and relations with China, but has also been a factor in increasing connections between low-income countries and Western end markets.
However, as tensions rise, Chinese investors and companies are being locked out of more economic sectors abroad, as evidenced by the ongoing tensions regarding the sale of a stake in the German. Port of Hamburg to COSCO shipping or escalation chip wars by the united states. These events may further shift BRI policy towards a direct confrontational approach. This could further accelerate deglobalization and negatively affect low- and middle-income countries, which need large consumer end markets for their exports to grow. BRI recipient countries do not benefit from having to choose sides, but they do benefit from strategic ambiguity in a bipolar global order.
Until now, I would say that China has not armed the BRI, even if he has been accused of doing so. However, as we approach the tenth anniversary of the BRI and tensions continue to rise, real risks of militarization of the BRI infrastructure may materialize, to the detriment of low-income countries, Chinese companies, consumers in end markets and the global economy.