The country's green energy goals have so far been ambitious, but the political will may finally be starting to build.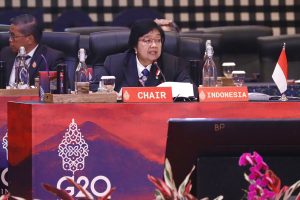 Indonesian Environment and Forestry Minister Siti Nurbaya Bakar speaks at the G20 Environment and Climate Ministerial Meeting in Nusa Dua, Bali, Indonesia on August 31, 2022.
Credit: Photo by Nagi/Pool via AP
Indonesia holds the presidency of the G-20 this year and will host the annual summit next month in Bali. The Russian invasion of Ukraine complicated what would otherwise have been a fairly straightforward opportunity for President Joko "Jokowi" Widodo and his government to showcase business and investment opportunities in the country. However, as we enter November and get closer to the summit, some of Indonesia's priority policy elements are being highlighted and one of them is the push for green energy.
Indonesian policymakers have been talking a lot about green energy for a while. The country has previously pledged at world summits to reduce emissions and increase renewable energy generation. But these promises, in my opinion, are often quite ambitious in nature and often fail to address the reality of Indonesia's political economy, where coal plays a very important role in exports and energy security, and where the power company state-owned PLN owns and operates a large fleet of coal-fired power plants.
Previous efforts to boost private investment in wind and solar power have been slowand dubious policies are often implemented on an ad-hoc basis, such as a quick ad then retracted plan to get consumers to switch to electric stoves. But it seems that something a little different is happening this time, with more comprehensive regulatory, legislative and political support coalescing behind the idea of ​​a green transition. And I think that has to do with the upcoming G-20 summit.
The Asian Development Bank is working on its Energy Transition Mechanism, a fund that will offer some kind of financial incentive to PLN in exchange for the early retirement of a part of its coal-fired power plants. pln executives also announced last week that there were talks with European and US investors about an agreement to close some coal plants early. The International Energy Agency recently published an energy sector roadmap towards net-zero emissions in Indonesia, which it developed in consultation with various government ministries.
A renewable energy law is currently being drafted, but in the meantime, presumably to get something on the books before the G-20 summit in November, Jokowi issued Presidential Regulation 112 of 2022. The regulation does what you'd expect by looking streamline acquisitions. , offer investment incentives and clarify the rate-setting scheme for renewable energy projects. It also mandates that no more coal-fired power plants be built in the future, while leaving leeway on how certain terms and exemptions are defined for coal-fired power plants already under construction.
What's interesting about all of this, taken together, is that I think we're starting to see real political will starting to build up behind these efforts. And you're going to hear a lot about this at the G20, for a simple reason: the Indonesian government is signaling that it's willing to move away from coal and start investing in a green transition, provided there are enough attractions. incentives to do so.
International financiers and investors are expected to help finance such a transition. Whether we like it or not, coal has conferred significant political and economic advantages on Indonesia in recent months. The country has also invested heavily in a coal-anchored system, and if that is to change, an alternative energy supply and distribution model must be on the table. Needless to say, stop building coal-fired power plants, without a viable and realistic replacement in mind.
If you expect Indonesia to make a credible commitment to move away from coal, it must be clear what it is getting in return. This could include a variety of things, such as investment in electric vehicle manufacturing, transfer of technology and skills related to renewable energy development, and of course financing and investment. And many of the players able to offer such incentives will meet in Bali next month.
Indonesia still needs to do a lot of its part, especially to finalize the regulatory and legislative framework through the process of making binding laws. But if funders and stakeholders come to the table without good answers to the above incentive puzzle, any commitments that emerge from the G-20 summit are likely to be as short-lived and unrealistic as those that emerged from previous international summits. .