Among other things, the country's land acquisition procedures are creaky, opaque, and difficult to appeal.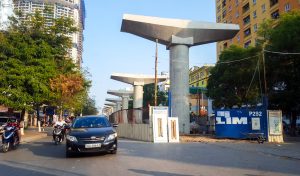 People walk past a row of concrete pylons being built as part of the metro system in Hanoi, Vietnam, on February 19, 2017.
Credit: Depositphotos
There are big plans afoot improve transportation infrastructure throughout Vietnam. A subway line, the first of its kind, recently opened in Hanoi and appears to be gaining popularity. Another pair of metro lines plods along in Ho Chi Minh City, along with a mega-airport under development at Long Thanh that will be accompanied by an extensive network of road and rail links.
A long-discussed idea for a high speed rail line traveling more than 1,500 kilometers from north to south, at a cost of tens of billions of dollars, it was also recently refloated. This puts Vietnam firmly in line with other countries in the region, such as Thailand, Indonesia and the Philippines, which have been investing heavily in transportation infrastructure. But in Vietnam, long delays have delayed many of these projects for years, complicating financial arrangements and raising the question: what is holding them back?
Take Ho Chi Minh City Subway Line 1 as an example, which has been financed mainly by the Japan International Cooperation Agency (JICA). The project is being overseen by the Management Authority for Urban Railways (MAUR), an agency of the HCMC government. In 2014, the government issued a report on the project that estimates the first line would be operational in 2018. But land acquisition has been extremely slow and they sailed past that deadline. in a newsletter september 2020, MAUR announced that only about 44 percent of the needed land had been delivered. It now looks like the line could be operational by 2023, but that could easily be delayed.
Land acquisition has also severely retarded HCMC's second metro line, a project that has been held back by demining, technical and administrative bottlenecks for more than a decade. This is complicating financing for the project, as the original lenders, which include the Asian Development Bank and German state lender KfW, have seen cost estimates almost double. The government is now suggesting that the line will not be in service until 2030.
Things are moving a bit more smoothly at the new mega-airport project in Long Thanh, which is expected to handle tens of millions of passengers and ease pressure on nearby Tan Son Nhat International Airport. With a total price tag of around $16 billion, the airport is intended to anchor an extensive road and rail network in southern Vietnam and is considered a project of national strategic importance. It was reported in May 2022 that 90 percent of the land needed for the first phase of the airport has been delivered, and authorities expect the project to be operational by 2025. As with the metro projects, land acquisition has slowed things down, but not by as much. .
On the surface, this may seem a bit surprising. Vietnam is a one-party state with a highly centralized administrative structure. Technically, all the land collectively belongs to the people, but the state manages it on their behalf. A new land law passed in 2013 further enshrined the state's ability to reclaim land for economic development. So why has land acquisition caused massive delays in major public works projects?
On the one hand, it is very common for planners and politicians to underestimate the complexity of large infrastructure programs, especially when they have little experience with them. The Ho Chi Minh City government has never built a metro line before, and MAUR, the agency charged with carrying it out, is a relative newcomer. On the other hand, the Vietnam Airports Corporation, the state-owned airport operator, has been around for a while. So it is not so surprising that they are better at building airports than MAUR is at building metro lines.
But the biggest problem is that Vietnam's land law needs work. Although it establishes the right of the State to acquire land for socioeconomic development, the process remains opaque and difficult to appeal. Compensation is not based on market prices, but is calculated by the state. The executive branch of government, at the national, provincial or municipal level, depending on the bill, has most of the power to set the terms and decide the outcome of disputes. As a consequence, people are being offered less than market value and the law does not provide a clear way to challenge these results.
When land acquisition is carried out in this way, it can be slower than if safeguards are in place to ensure a minimum level of transparency (such as external appraisers) and establish legal mechanisms to appeal or challenge the will of the state. If Vietnam wants to pick up the pace on some of these projects, and especially if this high-speed rail project has any chance of being built in our time, taking a close look at the laws governing land acquisition would be a good place to start. . .