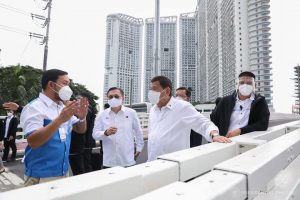 INE President Rodrigo Duterte inspects the newly built Estrella-Pantaleón Bridge in Manila, Philippines, along with Senator Bong Go, Chinese Ambassador to the Philippines Huang Xilian, and Secretary of Public Works and Highways Mark Villar.
Credit: Facebook/Rody Duterte
When Rodrigo Duterte became president of the Philippines in 2016, his economic vision for the country was quite clear: build infrastructure and boost investment. The cornerstone of this plan was the Build, Build, Build program, in which the government targeted dozens of infrastructure projects for priority development through a combination of public and private funding from domestic and foreign sources.
As Duterte's six-year term drew to a close, the government also passed several investor-friendly legislative reforms aimed at accelerating the inflow of foreign capital. These included relaxed restrictions on foreign ownership of public servicesfacilitating the opening of foreigners small and medium businessesand liberalization in the retail sector.
How effective have these efforts been? rapper made an oversight of the Build, Build, Build program in June, noting that only a few projects had been completed, with many experiencing long delays and other problems. The pandemic also wrecked the works, as it forced a big shift in government spending and funding. But even so, the data from the Duterte presidency tells a fairly consistent story, which is that investment and construction increased significantly.
Let's look at investment approvals During the last years. This data is not perfect because it represents approvals rather than investments made, but it can give an idea of ​​general trends. And what it shows is that investment approvals accelerated after Duterte took office, going from PHP686 billion in 2016 to PHP1.3 trillion in 2019. That's a 90% increase in 3 years, fueled by largely due to domestic investment. During that same period fixed capital formation grew at an average annual rate of 12 percent. the balance of payments it also recorded large capital inflows, with net foreign direct investment averaging $6 billion per year between 2016 and 2019.
These figures are consistent with an economy experiencing higher investment and fixed capital formation, such as infrastructure construction. This includes a massive update to the urban and commuter rail system in and around Manila, extensions to toll road networksnew airports and industrial zone projects, and large increases in the country electricity generating capacity which grew by 40 percent from 2015 to 2020. Thus, there are clear indications that during the Duterte administration, many things have been built or are in the process of being built, although many have not yet been completed.
The next question is, how is this paid for? I think the government has done a decent job spreading it around, with a combination of state funding, public-private partnerships, and loans from development actors like the Japan International Cooperation Agency and the Asian Development Bank. However, it has hardly been free. As soon as Duterte took office, the Philippines started running sizeable fiscal deficits reaching more than 3 percent of GDP even before the pandemic.
This type of development can also affect the current account, as there will normally be a increased imports. That is the case of the Philippines. Imported capital goods (such as telecommunications, energy, and transportation equipment) nearly doubled from $19.6 billion in 2015 to $37.4 billion in 2019. This is consistent with a country that is importing equipment and goods to build roads, railways, bridges, airports, power plants. , and other infrastructure. But it also means that under Duterte, the Philippines ran a consistently large deficit in tradable goods, reaching $49 billion in 2019.
So how much of this can really be attributed personally to Rodrigo Duterte? He benefited from loose monetary policy in the global financial system and the willingness of global lenders to invest in regional infrastructure. Duterte's main strategy was basically not to do anything radical on the economic front that would disrupt the momentum generated during his predecessor's administration (investment and fixed capital formation really started to pick up under Benigno Aquino III). Duterte can probably be credited with accelerating the pace and scale of that trajectory while increasing foreign capital inflows. As a result, the Philippines has seen a surge in investment and construction activity.
The flip side of this development strategy is fiscal deficits and an accumulation of liabilities in the country's balance of payments from foreign loans, foreign investment, and increased imports. These things are neither good nor bad: their impact depends on the uses to which they are put. And it can be convincingly argued that incurring liabilities to invest in infrastructure is a good trade-off.
But as we are now in an era of high commodity prices, volatile emerging market exchange rates, and global monetary tightening, import-dependent countries like the Philippines, which run twin fiscal and current account deficits, will find out. that this is not an ideal situation to be in. And perhaps that will end up being one of the most important parts of Duterte's economic legacy in the country.