The Philippine leader's comments hint at the balance he will try to achieve in his country's foreign relations.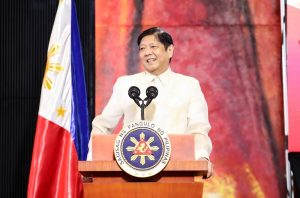 Philippine President Ferdinand Marcos Jr. addresses the Manila Foreign Press Club in Manila, Philippines, on October 5, 2022.
Credit: Facebook/Bongbong Mark
Philippine President Ferdinand Marcos Jr. has reaffirmed that his government is open to buying oil and fertilizers from Russia to relieve economic pressure from high global energy prices.
The comments, which Marcos made yesterday during a speech at the Manila Foreign Press Club, are the latest sign that the Philippines is prioritizing its domestic economic situation over the international campaign to isolate the Russian government over its invasion of Ukraine.
"We assume that we take a very balanced point of view because the truth of the matter is that we may have to negotiate with Russia for fuel, for fertilizer," said Marcos, who also serves as his country's agriculture minister, according to a Reuters report.
The Philippines is just one of many countries trying to deal with runaway inflation, due to tight global supply that has been exacerbated by Russia's invasion of Ukraine in February. The country's statistical agency yesterday reported Annual inflation rose to 6.9 percent in September, its fastest pace in four years, led by soaring food costs. The agency expects the inflation trend to continue this month.
The Philippine leader's comments follow a interview he gave to Bloomberg during his state visit to the United States late last month, during which he said the Philippines might have a need to "reach out to Russia and say maybe they can relax and provide us with some fuel."
Marcos' position is not surprising and broadly reflects the position of most Southeast Asian nations towards Russian aggression in Ukraine. While not all have opted to buy Russian oil, only Singapore has joined the international sanctions campaign against Moscow, and most seem less concerned about the conflict than its global economic ramifications.
The Philippines is not the only Southeast Asian nation eyeing Russian oil at a discount. Indonesia has also raised the possibility to buy oil from Moscow, while dealing with high oil prices costing the government billions of dollars in fuel subsidies. Last month, the government was forced to reduce the subsidy in order to alleviate pressures on the national budget, which caused a wave of protests of student groups and unions. In response, Energy Minister Arifin Tasrif said Jakarta it was open to buying cheap oil "from anywhere", including Russia, to keep the price of domestic fuel in check.
Even if the Philippines ends up deciding against Moscow's blood oil, Marcos' comments hint at the balance his administration will try to strike in an era of deepening strategic competition between the US and its rivals, particularly Russia and China.
Since taking office in late June, Marcos has signaled his desire to rebalance Manila's foreign policy after six years in which his predecessor, Rodrigo Duterte, shunned the United States and embraced China for funding for development projects. large-scale infrastructure. This has involved a kind of rapprochement with Washington, during which he has affirmed the two nations' longstanding security pact amid tensions with China in disputed parts of the South China Sea.
At the same time, there are clearly areas where Philippine and US interests diverge, be it Marcos declared desire of stable and fruitful relations with China, or his desire to prioritize domestic economic considerations over the international campaign to isolate an aggressive and revisionist Russia. The United States can expect a more fruitful relationship with Marcos than with his predecessor, but it should not expect Manila to back it in every domain.