But Jakarta is likely to carefully weigh the domestic political benefits of cheap oil against a possible international pushback.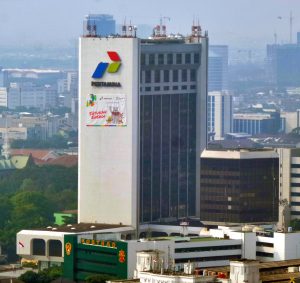 The headquarters of Indonesia's state-owned oil and gas company, Pertamina, in Jakarta, Indonesia.
Credit: Flickr/Ya, saya at BaliTimur
Indonesia remains open to buying cheap oil "from anywhere", including Russia, to keep domestic fuel prices in check, the country's energy minister said on Friday.
according to a Reuters report, Minister Arifin Tasrif told reporters that the government had not yet bought Russian oil, stating that it was not yet available for Indonesia, but that it was open to buying cheap oil from any country. "We haven't bought it yet because the products aren't available," he said. He added: "If there is cheap oil from anywhere, of course we will buy."
Arifin's comments came two weeks after President Joko "Jokowi" Widodo said his administration was still considering the potential benefits of buying cheap oil from Russia.
"We always monitor all options", the Indonesian leader told the Financial Times, when asked if Indonesia would negotiate with Moscow on oil. "If the country exists (and) they give a better price, of course."
In early September, the Jokowi government cut fuel subsidies to reduce the pressure on the national budget. This caused the prices of subsidized gasoline and diesel to rise from 51 cents to 67 cents per liter and diesel from 35 cents to 46 cents, the first such increase since 2014.
The price of fuel and other basic goods is a highly sensitive political issue in Indonesia, and the government has long reserved the right to intervene in the workings of the market to ensure that prices of basic commodities remain low. In the last year, it has intervened in the coal and palm oil markets to prevent increases in the price of electricity and cooking oil, respectively. It also has a decades-old system of fuel subsidies in place that ensures a flow of low-cost diesel and gasoline to the Indonesian public.
Announcing the subsidy reductions earlier this month, Jokowi described the move as "the government's last option" after the state budget allocation for fuel subsidies soared from $10.2 billion to $33.8 billion, as a result. from rising world oil prices, a side effect of President Vladimir Putin's invasion of Ukraine and the simultaneous weakening of the Indonesian rupiah. The jump in fuel prices immediately provoked small protests across the country, led by unions and student groups.
In this context, cheap Russian oil – cheap by virtue of Russia's growing international isolation – has undeniable appeal for domestic political reasons. In March, Indonesia's state-owned energy company PT Pertamina said it was considering buying crude oil from Russia to offset rising global oil prices.
However, the fact that Indonesia has not yet moved in this direction suggests that it is being cautious and taking into account the likely impact of a Russian oil deal on its relations with Western nations such as the United States. Earlier this month, the G-7 group of countries agreed impose a price cap in Russian oil in order to hamper Moscow's ability to finance its war in Ukraine. Any move to buy Russian crude at prices above the G-7 cap, and the Russian government has said it will not sell oil to any nation that signs up to the cap, could subject Indonesia to US sanctions.
Since the February 24 invasion, Jakarta has adopted a neutral stance in the conflict, condemning the action without explicitly condemning the aggressor. It has also refused to join the international sanctions campaign against Russia.
The government is now in a position where it must weigh the domestic benefits of cheap oil against the tensions with Western nations that could result from its decision to buy Russian oil. Caution is likely to be exercised in making this decision.