He has promised to pay $200 million to four Chinese energy producers, but that is only a fraction of the money that is owed to China.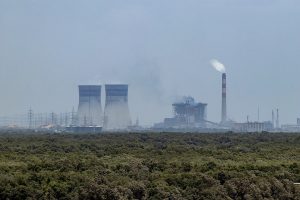 A coal power project built as part of the China-Pakistan Economic Corridor at Qasim port, located east of Karachi on Pakistan's Sindh coast, on June 8, 2021.
Credit: Wikimedia Commons/Vile Gecko
The Pakistani government has once again promised start making payments China's Independent Power Producers (IPPs) established under the China-Pakistan Economic Corridor (CPEC). It has also announced the completion of a monthly procedure to make regular payments to Chinese investors working in Pakistan's energy sector.
In the first phase, Pakistan has promised to pay $200 million to four Chinese energy producers to save them from default. It will make payments in local currency in an effort to put minimal pressure on the Pakistani rupee. However, the payment, if made in the next few days, would only cover a fraction of the payments Pakistan owes to Chinese companies. Pakistan is estimated to have to pay around $1.07 billion at 12 Chinese IPPS.
This is not the first time that Pakistan has pledged to settle dues owed to China's power producers. In the past, the country missed a number of payment deadlines, causing Chinese investors to refuse to start new projects or complete existing ones as scheduled.
A government official told The Diplomat on condition of anonymity that Prime Minister Shehbaz Sharif was eager to change this impression. "Sharif wants Chinese leaders to know that he is the person who can meet Beijing's needs," he said. It is pertinent to mention here that Sharif is scheduled to visit China later this year, when he may have to face questions from the Chinese about pending payments to China's IPPS and other agreements under the CPEC.
China is already frustrated by Pakistan's inability to complete CPEC projects. Pakistan has only completed three CPEC projects in Gwadar, as "a dozen projects costing nearly $2 billion remain unfinished, including water and electricity supply." according to to the recent report of the CPEC Authority.
One move that could further irritate Beijing is the Sharif government's decision to abolish the CPEC Authority, a body that made all CPEC-related decisions. The current government, led by the Pakistan Muslim League-Nawaz (PML-N), maintains that its decision will help speed up CPEC-related projects. The move coupled with the ongoing political and financial crisis is complicating Pakistan's ties with China.
One of the reasons for Pakistan's inability to pay Chinese companies is that Islamabad does not have the money to make major payments. Additionally, Pakistan's energy-related deals with China are under scrutiny by the International Monetary Fund (IMF).
according to one report, IMF wants Pakistan to negotiate with Chinese IPPs for better deals on debt restructuring of CPEC power plants. pakistan has assured the IMF that "it will strive to reduce capacity payments, as we pay arrears, either by renegotiating PPAs [Power Purchase Agreements] or lengthening the duration of bank loans".
It is important to note here that the IMF has demanded for years that Pakistan should manage its CPEC-related departures.
For example, in 2016, the IMF warned that repayment obligations on CPEC-related projects will rise exponentially after 2021. The fund had warned that Chinese investment repayments and earnings yields "could reach around 0." .4% of GDP per year for the longest period". run."
At this stage, it is not clear whether Pakistan will succeed in renegotiating the agreements made under the CPEC. Certainly, China will not be happy with Pakistan submitting new requests to negotiate CPEC agreements under pressure from the IMF. Furthermore, failure to pay existing dues could create further friction in ties. China may set its own terms to offset Pakistan's renegotiation requests. Cash-strapped Pakistan will find it difficult to manage its relationship with China and the IMF.
The all-weather friendship is certainly under immense pressure and may not recover soon as Pakistan's financial woes grow.